Styleshopusa Debuts JUJUChan Powder Styler at 15th Annual Pre-academy Awards Ultimate Beauty Suite


| | | | |
| --- | --- | --- | --- |
| | StyleshopUSA debuts the new JUJUChan Texture Powder Styler at the Pre-Oscars Style Lounge 2011 in their VIP Gift Bags. StyleshopUSA are best known for selecting the next handful of up and coming luxury and emerging brands. | | |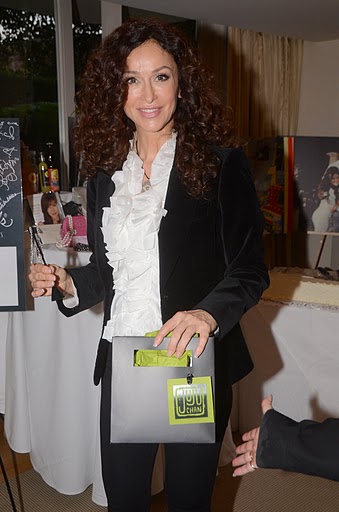 SOPHIA MILOS, CSI
FOR IMMEDIATE RELEASE
PRLog (Press Release)
–
Mar 06, 2011
– StyleshopUSA showcases for the second time this year, the new JUJUChan Texture Powder Styler at the Pre-Oscars Style Lounge 2011 in their VIP Gift Bags.
StyleshopUSA are best known for selecting the next handful of up and coming luxury and emerging fashion & beauty brands. They have selected JUJUChan for their Luxury Eco Chic Style Lounge teaming up with Veteran Gift Lounge & PR specialist Roger Neal at their Hollywood Oscar Beauty Suite which kicked off February 21st at the beautiful Beverly Hills, L'Hermitage Hotel. Celebrity Stylists, Press, Media, Celebrities and VIP's enjoyed four days of product sampling from Roger Neal's Ultimate Style Hollywood Oscar Beauty Suite and viewed Luxury Couture Fashion for Red Carpet Nominees, and VIPs by StyleShopUSA featuring International Couture designer s Addy Van Den Krommenacker and Rubina Anjum.
**JuJu Chan Texture Powder Styler retails for $28, and comes in shades of Blonde and Brunette and tjhis dry shampoo texture Styler is perfect for any busy celebrity travel schedule when there's not enough time to wash the hair! Sophia Milos CSI, and Bollywood Stars Mallika Sherewat and Fagun Thakrur, TV Guide Host Carly Steele, and Beverly Hills Courier Host Tamara Henry were all thrilled with the gifts. With our busy schedules said Mallika, this little dry powder is the perfect thing! Products can be found online at www.styleshopusa.com.
Other guests who received the gift bag included OSCAR NOMINEES FROM TRUE GRIT, TOY STORY 3, Maria Canals Barrera, Randy Newman, Nadia Bjorlin,Candace Cameron, Steven Tyler American Idol , Bollywood star Udita Goswami, Maria Conchita Alonso, Vanessa Bell Calloway, Tia Carrere, Wedil David, Oscar Nominee Roger James for True Grit, Greg Ellis,Nathalie Faye, Kate Flannery, Richard Gant, Mark Whalberg, Leeza,Mark Hamill, William Shatner, George Hamilton, Alana Stewart,Kelly Hu, Ernie Hudson,Lorenzo Lamas, Ed Lauter, Jennifer Lewis, Angela Bassett,Madsion Leslie, Sofia Milos, Tamara Mowry, Kelly Monaco, Elise Neal,Jeryl Prescott Sales, Oscar Nominee 2008 Francesco Quinn, Sheryl Lee Ralph, Eric Roberts, Will Sasso,Tom Everett Scott, Caterina Scorsone, Judi Shekoni from the new Twilight Breaking Dawn, The Sitaution, Fivel and Boo Boo Stewart, Amber Stevens, Miles Teller from Rabbit Hole, Bella Thorne, Nadine Velasques, Patrick Warburton, Vanessa Williams, Sean Young,Shelby Young, Brenda Song, to name a few
* The first day, the Lounge was closed down in the morning for Steven Tyler and his wife to receive his private beauty treatments. He received a JUJUChan Gift Bag - which he loved - perfect for every rock and roller on the go!! with not time to wash hair. This unique product when rubbed into the scalp adds volume and texture to otherwise limp hair.
The RNSH Academy Award Ultimate Beauty suite ran Feb 21 - 24th 2011 at the L' Ermitage Hotel in the Garden Suites from 9:30 am 8:00 pm daily , Beverly Hills, CA. Stars were pampered with beauty treatments as they prepared for their big night. World-renowned G.M. Collin Skincare Paris gave $10,000.00 beauty treatments in the suite which included: Phyto Stem Cell + collection in conjunction with the Derm Renewal Clinical Peel and Algomask. G.M. Collin has the perfect solution for all the celebrities skin care needs.
Meanwhile, hot from dressing Celebrities for TV and Red Carpet for the Oscars, StyleshopUSA are already preparing for the Cannes Film Festival Style Lounge and will be presenting JuJu Chan again at their Preview-
Cannes Party Reception to be held in Los Angeles on April 5th - 10th, and then in Cannes, May 17 - 25, 2011.

For more details on JUJUChan Texture Styler
Contact:
sales@styleshopusa.com
t: 323 466 3227